The ILO and GIZ Cambodia advanced their collaboration initiative to support MSMEs facing challenges during and after the COVID-19 pandemic with the ILO MSME Business Resilience training tools. To kick-off, GIZ conducted the first pilot session for eight MSME owners on ensuring business continuity during a crisis.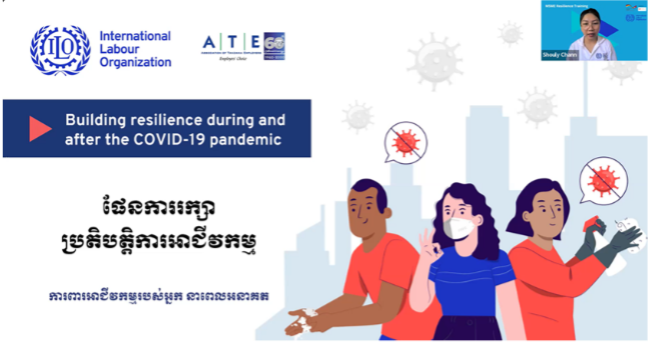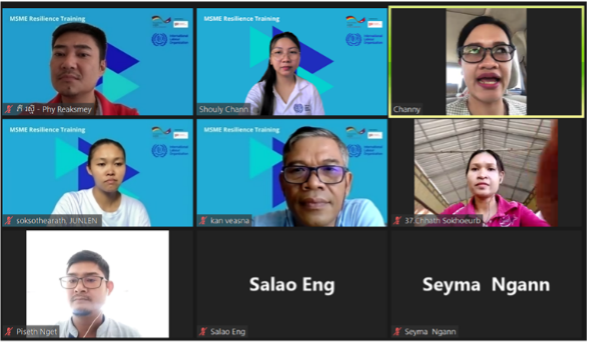 On 14 May 2022, the German Agency for International Cooperation (GIZ) held the first pilot session with micro, small and medium-enterprises (MSMEs) in Cambodia on ensuring business continuity during COVID-19. Participants learned from the ILO's MSME Business Resilience module which uses Activity-Based Learning to train in a highly participatory and interactive manner.
Through September to October 2021, GIZ Cambodia and ILO had worked together to deliver Community-Based Enterprise Development (C-BED) and Ready-for-Business (R4B) trainings for MSMEs and youth in Battambang, Cambodia. The programme successfully conducted ten business workshops physically and online, each of which benefited 20 to 30 participants. Following this programme, GIZ and ILO started a new initiative to support MSME owners who suffered from COVID-19 pandemic, using ILO's MSME Resilience tools.
The MSME Business Resilience tools consist of five online training modules:
1. Business Continuity Planning
2. Financial Planning
3. Returning to Work Safely
4. Business Plan Development
5. Digitalise Your Business
All modules adopt the Activity-Based Learning framework, which is a participant-driven, innovative, low-cost and sustainable approach. The training modules are a part of ILO's COVID-19 Business Resilience initiative, comprising of tools, informative videos and checklists aimed at small businesses impacted by the crisis.
Participants from the pilot shared constructive feedbacks and incentivised the formal roll-out of the training programme in the future. As the next step, GIZ and ILO will review the feedbacks and discuss implementation plans. The training programme is expected to formally start from July 2022.
All of ILO's Activity-Based Learning training programmes and COVID-19 Business Resilience resources can be found at the ILO Peer Learning Hub.
This initiative is realized in collaboration with: