The third webinar under the Building Youth Capacity and Network in Asia and Pacific Project webinar series was held on 6th March, engaging partners from Impact Hub, AIESEC, ILO Vietnam and various country offices.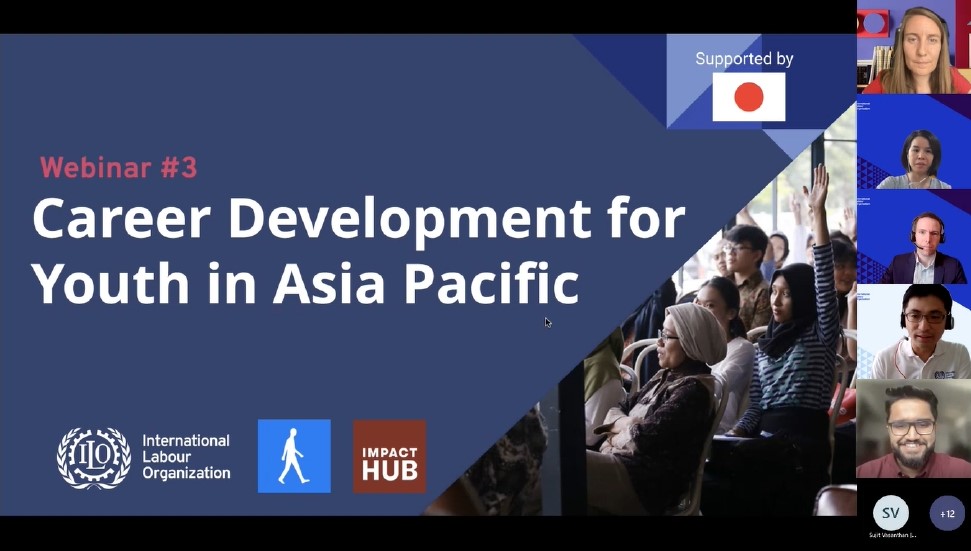 The ILO organized a knowledge sharing webinar on Career Development for Youth in Asia Pacific on 6 March 2023, as part of the Building Youth Capacity and Network in Asia Pacific > project which focuses on empowering youth and vulnerable people using the ILO's scalable and interactive training tools. The third webinar in this series focused on the innovative career guidance initiatives established across the region, taking case studies from Cambodia and Vietnam.
Felix Weidenkaff, ILO Youth Employment Specialist for Asia and Pacific, set the scene for the webinar highlighting the importance of youth career development in enabling young individuals to fuel positive economic and social change in their communities.
Ms. Melanie Mossard, Chief Executive Officer of Impact Hub, presented Impact Hub's efforts in advancing career development initiatives in Cambodia. Impact Hub Phnom Penh's Movers Programme > is one such initiative. The Movers Programme provides opportunities for young people in high school and the university level to think about their future career by engaging in interactive discussions with their community.
Following this, Arfan Nazar, Global Head of Information Systems at AIESEC Global, highlighted the importance of leadership in career development. AIESEC's leadership development model looks at creating value driven leaders who will create positive impacts in their communities. AIESEC aims to create direct and positive impact in the world by developing leaders who can create positive change in the future no matter what field of work they find themselves in.
Successful case studies were also taken from Viet Nam. Nguyen Thi Huyen, National Project Coordinator at ILO Viet Nam, presented on the practical approach Viet Nam is taking in providing career guidance services to the youth through the development of the ILO Viet Nam Career Guidance Package >. The career guidance package is designed for 14-19 years old providing them with both career counselling and career education. The career guidance package has also been designed into a mobile phone application that has been used by over 3000 young people.
The webinar was organized as the third in the series under the Building Youth Capacity and Network in Asia Pacific project, funded by the Government of Japan, as part of its efforts to connect development partners to support each other. The ILO looks forward to hosting next month's webinar.