Susan Zamora Olarte is the co-owner of Vino Arsan Enterprises, a small agribusiness producing local wine in the Philippines. Determined to take her 100% Filipino handcrafted wines and spirits to the next level, Susan is promoting the livelihood of local farmers and pushing the market towards environmental sustainability in the post-pandemic, 'new normal'.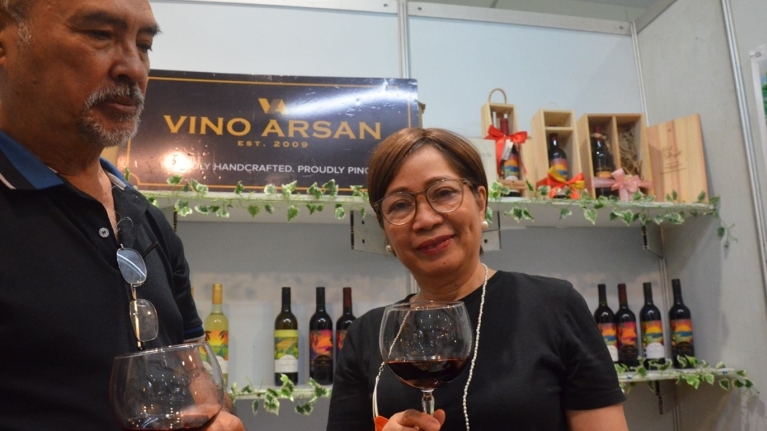 Susan Zamora Olarte, Owner of Vino Arsan Enterprises joined the ILO-Great Women-J.P.Morgan Flip your Biz Peer Programme in 2022
Vino Arsan is a small, family-run business started out of Susan and Arturo Olarte's garage in 2009. The company produces internationally recognized, wines and spirits using fruit indigenous to the Philippines such as bignay, lipote, mango, calamansi and dragon fruit. Vino Arsan has won many notable awards including two silver and one bronze medals in Vermont, USA in 2016 and a gold medal at the 2018 Wine Maker International Competition in San Diego California, USA to name a few.
As a social entrepreneur, Susan works closely with local farmers, giving them seedlings to propagate the berry-bearing trees she needs. The supplier communities see the immense value in growing the trees both as a sustainable source of income and as a means to cultivate local products.
Like many small businesses around the world, the pandemic forced Susan to readjust her business strategy. Manila experienced extensive lockdowns which led to the cancellation of all expos Vino Arsan planned to participate in, affecting their sales drastically. The pandemic also limited the supply of raw materials and ingredients due to travel and health restrictions. Despite this, Susan and her team pivoted to marketing and selling primarily online and in the end, were able to keep the business running.
Susan was one of the selected female entrepreneurs who participated in the "Flip Your Biz" programme, delivered by GREAT Women in partnership with J.P. Morgan Philippines under the ILO's Rebuilding Better Project. The programme gave women entrepreneurs access to training, mentoring, and peer-networking over the course of four months in 2022 and offered sessions covering topics on accounting, budgeting, access to finance, digital marketing and sales. According to Susan, the programme helped her re-establish her purpose, goals and direction.
"I benefited a lot from being a participant of Flip your Biz" – Susan Zamora Olarte