While scrubbing tiles and cleaning toilets as a janitor, Zee Pono began to realize her dream of one day starting a business and selling her homemade chorizo, a Filipino sweet sausage with origins in Cebu. She made attempts to sell her products on famous networking sites such as Friendster and Multiply but received many discouraging comments from others who thought selling items on a chatting and networking site was unheard of. Zee also felt rejected and discriminated against as a woman and a member of the LGBTIQ+ community.
"Each time I clean the toilet bowl, I always tell myself this is not going to be forever. I have a lot of experiences when I am bullied. It is a form of discrimination that has hurt me, but I am also using it to inspire and motivate myself," Zee recalled.
Later, Zee worked as a Project Manager, but due to the COVID-19 pandemic, soon lost her job. As people waited in line to get aid from the government, Zee kept her only money, a 500-peso bill (US$ 10) in her pocket and prayed hard that she would survive the pandemic. At 36, Zee decided she would use the little money she had left to start a business, but she was turned down 21 times. The 22nd person she talked to believed in her and bought everything she was selling that day. Grind meant hustling hard from the ground up to Zee, so she named her business Grnd Up.
"There is no letter I in the name of the business, Grnd Up . Even if I started from the ground, it would not just be about me. It would be about our customers and employees as well. We went from having one customer to having over a hundred and counting," said Zee.
In the next few weeks, the business grew. But it was humbling for Zee to walk more than 10 kilometres back and forth to sell her chorizo by knocking on doors. She also launched an online pet store called Animaux Krib >, with a portion of the proceeds going to animal rescue. However, not even a month after, Zee was affected by the Super Typhoon Rai (Odette) which hit Cebu. She opened her home to those affected and used her products to feed her community.
As a result, Go Neosyo, an advocacy arm of the Philippine Center for Entrepreneurship (PCE) awarded Zee as an inspiring Filipina and most promising microenterprise. She was the first woman in the in the Visayas region to be recognized for her tenacity and resilience.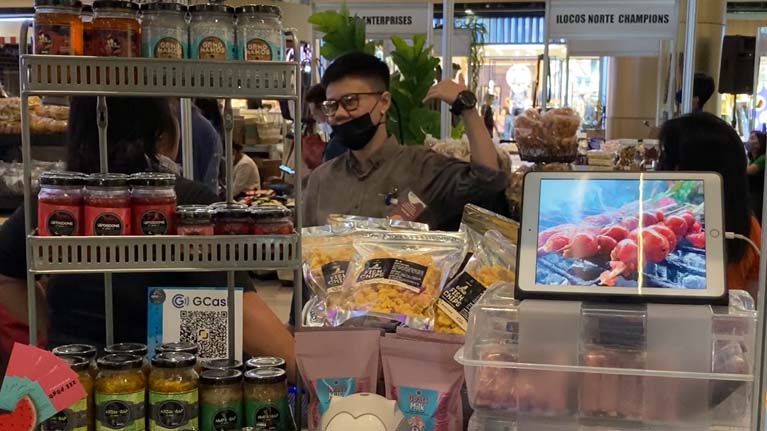 Zee now has 15 employees and is still hiring more. She wanted to change someone's life through employment. Her goal in business is to have a bigger impact as an entrepreneur, as a Filipino, and as an individual.
"What is special about this employment? These are the underserved people in the society. These include the alcohol sobbers, the drug surrenderers, members of the LGBTIQ+ community, single mothers, even cancer survivors, and people who lack the educational attainment. I see it as a chance to employ them because they have less opportunities in the community," Zee remarked.
Her desire to grow her business led her to the Women Strong Hybrid Trade Fair of the International Labour Organization (ILO) and the Women's Business Council Philippines >, under the ILO Rebuilding Better Project > funded by J.P. Morgan >.
"The project helps women entrepreneurs in Malaysia, the Philippines, and Thailand recover from the COVID-19 pandemic and change their business models to be more sustainable and resilient. It does this by making it easier for them to get access to important support services," said Sara Andersson, ILO Project Technical Officer.
The ILO Rebuilding Better Project works with partners, including the government, workers' and employers' organizations, and the private sector to help small businesses get better access to training, financial services, and market information. This also means growing their online presence and using digital technology.
Zee thinks of COVID-19 in a positive way. She said that it now stands for Coming Out Victorious, Inspired and Driven (COVID) during and after the period of isolation. The future is always uncertain. Still, Zee remains excited, and she urges everyone to never give up.
"If people tend to humiliate you or to call you crazy, never give up on yourself. Hold on and believe that whatever your life's passion and purpose, you will surely succeed," Zee concluded.