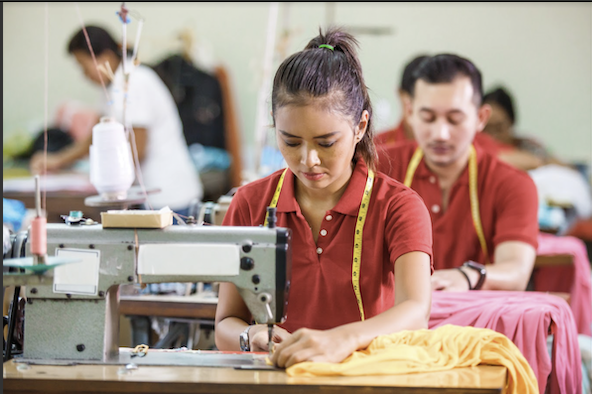 The ILO's Factory Improvement Toolset is being implemented in the Asia-Pacific in partnership with garment associations, partner organizations and ILO programmes.
The ILO Factory Improvement Toolset (FIT), launched officially in December 2020, is a factory upgrading programme focusing on improving productivity and working conditions in a scalable and sustainable manner. In the past six months, the toolset has been piloted and implemented across Asia-Pacific countries in collaboration with various partners.
Bangladesh: Partnerships for better factories and workers
The ILO has partnered with the Bangladesh Garment Manufacturers and Exporters Association (BGMEA) and Bangladesh Knitwear Manufacturers and Exporters Association (BKMEA) for piloting FIT at their garment factories. Despite delays with COVID-19 restrictions and lockdowns, pilots are underway in six factories with consistent engagement and feedback. These pilots will be the initial benchmark for FIT tools in Bangladesh.
In close collaboration with Better Work – an ILO and International Finance Corporation (IFC) programme on improving productivity and competitiveness in the garment sector – FIT tools are being presented and assessed for compatibility with their existing programmes. Initial evaluations have shown the complimentary and flexible nature of FIT modules, where it is able to fit pre-existing training programmes while adding necessary components of sustainability and self-facilitation.
With comprehensive feedback from the initial pilots as well as incorporating FIT into Better Work's extensive programmes, the ILO hopes to scale the Factory Improvement Toolset across Bangladesh's garment factories in the near future.


Cambodia: Providing sustainable and scalable trainings
The Cambodian Garment Textile Institute (CGTI), created under the Garment Manufacturing Association in Cambodia (GMAC), has partnered with the ILO to pilot FIT tools with enterprises in Cambodia. The CGTI focuses on facilitating the growth of skilled workers in the garment sector and establish training needs for the evolving industry.
Simultaneously, the ILO is organising a workshop in collaboration with Better Factories Cambodia in order to promote the adoption of FIT and discuss its benefits to pre-existing materials and programmes. In Cambodia as well as in Bangladesh, FIT has been received positively by partners in similar fields as the programme is seen as highly flexible and scalable to their ongoing projects.
Beyond Asia: FIT goes global through collaboration
The expansion of FIT tools in Asia, as well as globally, has been initiated through collaboration with Better Work and the Sustaining Competitive and Responsible Enterprises (SCORE) programmes, both global initiatives implemented by the ILO. By tapping into their existing networks of garment factories and extensive knowledge of the industry, FIT tools are able to be introduced in a strategic manner.
SCORE Pakistan and the ILO project International Labour and Environmental Standards Application in Pakistan's SMEs (ILES) have presented the FIT programme to partners and enterprises at the SCORE Alumni event in June. The presentation showed the vast potential of FIT tools to support enterprise development, COVID-19 inclusive recovery and increasing productivity long-term.
In Ethiopia and Jordan, FIT has collaborated with Better Work and SCORE to introduce the materials to enterprises. Initial consultations and workshops have shown the tools' useful and the programme's suitability for businesses of all sizes.
Discussing the Factory Improvement Toolset with other ILO and UN programmes has proven the tools' benefits for ongoing trainings and projects. From the ease of self-facilitation to focusing on sustainability and protecting workers, the FIT programme ensures a holistic approach to enhancing productivity and upgrading garment factories.
Despite FIT being available for little over six months, there have been an extensive range of activities to present, promote and implement the approach across Asia and beyond. This has been possible through various partnerships with garment associations, partner organisations and other UN programmes who have been receptive to the programme. Currently, FIT modules are available in English, Khmer, Bengali and Chinese.
The Factory Improvement Toolset is being piloted in Asia under the regional Decent Work in the Garment Sector Supply Chains in Asia project, funded by the Government of Sweden.
To find our more about FIT, and other activity-based learning tools, check out the ILO Peer Learning Hub.