Sirintra Jittrawong is a Thai entrepreneur juggling not one, but two separate businesses. Always looking to expand her skillset and help those around her, Sirintra demonstrates the powerful role women play in their business communities.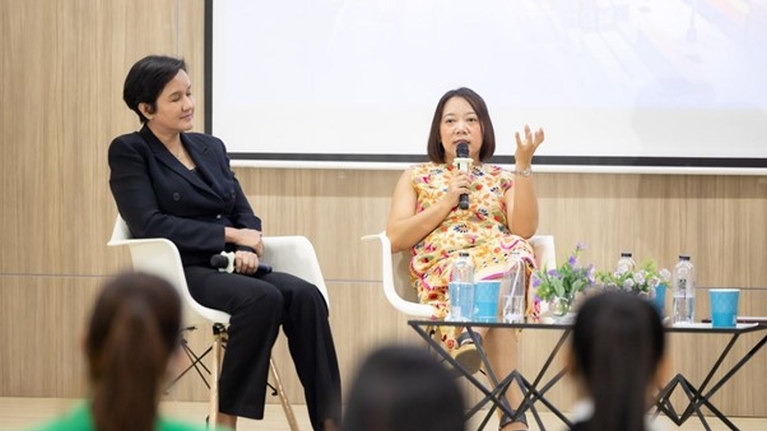 Growing up surrounded by small family businesses, Sirinitra Jittrawong saw firsthand the challenges of developing and implementing an effective marketing strategy with a limited budget. This ultimately inspired her to establish her consulting business, Kidnokkrob 360, which supports SMEs in brand management and commercial strategies. Through her business, she seeks to help other SMEs maximize their limited budgets for optimal results.
Additionally, Sirintra works full time as the CEO and Managing Director for Microfiber Industries Limited, a glass wool insulation manufacturer based south of Bangkok, Thailand.
Sirinitra learnt about the WE-Can Be Resilient Programme, a six month technical and peer support programme organized by the social enterprise Space Bangkok under the ILO's Rebuilding Better Project, and was eager to apply as she wanted a program geared to her own experience as a women entrepreneur in Thailand.
She appreciated the variety of peer and technical sessions offered by the programme over the course of 2021 and 2022 and found the focus on digital marketing to be very helpful. Following the training, she invested in her personal LinkedIn page and her company's Facebook page to boost sales and connect with others. Key takeaways she took from the course included:
Content is key! Post regular, diverse content to keep your followers engaged

Engagement takes time. Be patient and keep posting

LinkedIn is a great resource for both personal and B2B networking.
Sirintra appreciated the wide scope of topics covered in the WE-Can programme and the opportunities for networking and building relationships. She specifically enjoyed getting to connect with other like-minded women. Thanks to her participation in the WE-Can Be Resilient programme, Sirinitra feels more confident to drive real change in both her own business and in the businesses of her consulting clients.
As CEO of Microfiber industries, she is setting up ambitious sustainability goals for the company, such as utilizing 100% recycled raw materials. She sees this as an opportunity to supply "green" construction initiatives in Thailand and the South-East Asia region.