International Labour Organization (ILO) and Pact Cambodia celebrated the establishment of a new collaboration initiative to deliver entrepreneurship and soft skills trainings for 1,500 Cambodian women and youth in 2021 through an online ceremony held April 23rd, 2021.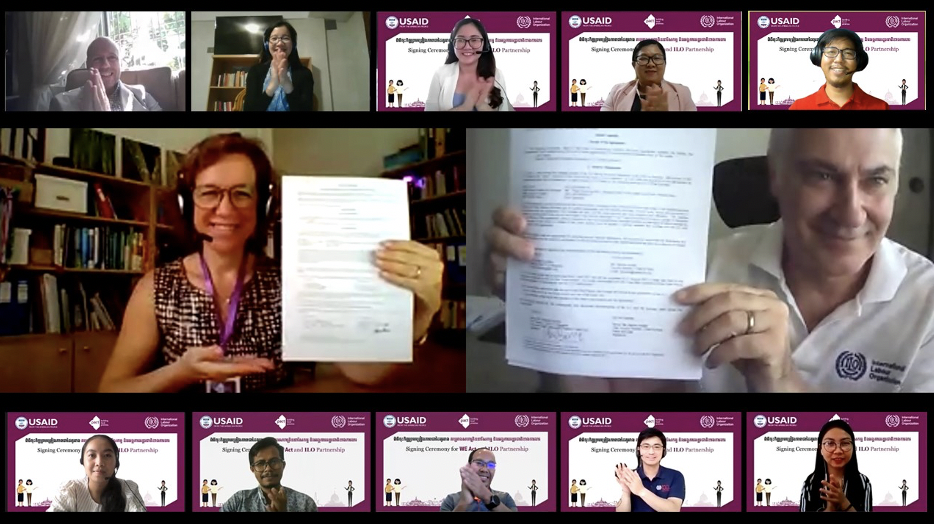 Pact Cambodia is a non-government organization in Cambodia, which has empowered marginalized people in Cambodia since 1991. With its partners, Pact implements the Women Entrepreneur Act (WE Act) project funded by United States Agency for International Development (USAID) since August 2018. The WE Act project works through other implementing partners to primarily target youth and young women between the ages of 15 and 35, with the aim of providing access to information, skills, knowledge, tools, and networking required to be successful entrepreneurs and leaders. The initiative helps them build confidence, leadership and an entrepreneurial mindset that helps increase revenues and create more jobs long-term.
The ILO will provide a grant and technical assistance for Pact Cambodia using the SSN project fund to support implementation of trainings for youth and women using the ILO's activity-based learning tools. These programmes are equipped to be highly interactive, self-reliant and flexible to participants' needs, which are apt for targeting Cambodia's young demographic. Pact Cambodia, together with its 30 implementing partners under the WE Act project, will organize entrepreneurship and soft skills trainings and workshops in collaboration with the ILO.
Veena Reddy, USAID/Cambodia Mission Director, said: "This agreement helps us move closer towards our common objective which is to help young women and youth in these challenging pandemic conditions. We hope that this innovative approach - and our collaboration with ILO and Pact - will provide them the necessary knowledge and skills to improve their lives and their businesses."
Sabine Joukes, Pact Cambodia Country Director and WE Act Chief of Party, commented that "Rather than re-inventing training materials, we partner with ILO who tailor made materials for the Cambodian context. This will enable our implementing partners to facilitate these trainings to more entrepreneurs and youth more quickly and at high quality, ensuring high impact; especially during C-19, to have the option to go online with skills building activities, addresses a need often expressed by entrepreneurs".
Through the collaboration, the ILO and Pact Cambodia will seek to deliver entrepreneurship and soft skills trainings for 1,500 Cambodian female and male youth by the end of 2021. This initiative is part of the ILO's larger aims of empowering youth employment and opportunities at a time of uncertainty from the COVID-19 pandemic.
This initiative was supported by the Government of Japan through ILO/Japan Fund for Building Social Safety Nets in Asia and the Pacific (SSN Fund), and by Swiss Agency for Development and Cooperation (SDC) as part of the Decent Employment for Youth in Cambodia (DEY) programme.