The ILO brought together micro, small and medium-sized enterprise owners from Asia to share pandemic challenges, adapting their businesses and staying resilient in an interactive virtual discussion.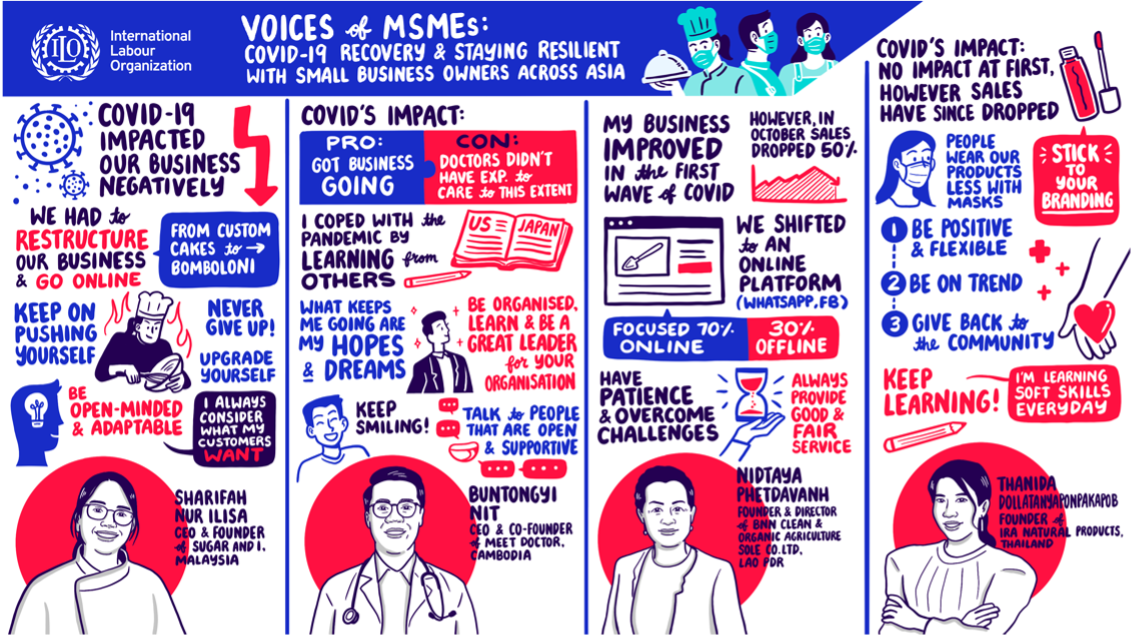 Micro, small and medium-sized enterprise (MSME) from across Asia came together for a virtual roundtable discussion on the 5 of November 2021 to share their experiences with COVID-19, how they have adapted their business and what the future of work entails for small business owners. Organized by the ILO, the webinar aimed at centring the personal experiences of MSME through open dialogue, knowledge sharing and leveraging networks.
The interactive discussion, Voices of MSMEs: COVID-19 recovery and staying resilient with small business owners across Asia, focused on challenges and lessons learned from the pandemic, how they leveraged support available and the impacts of the crisis on their business long-term. With speakers from Malaysia, Cambodia, Lao PDR and Thailand, participants were able to hear various contexts and circumstances that have affected businesses.
Buntongyi Nit, CEO and Founder of Meet Doctor, a digital healthcare platform, shared his challenges working within the health sector during COVID-19 and having to learn new medical skills while attending patients online. On the other hand, Sharifah Nur Ilisa, CEO & Founder of Sugar and I, a bakery based in Malaysia, struggled with closing their brick and mortar space and losing customers. She was able to adapt by pivoting to social media, delivery and introducing new baked goods such as bombolonis.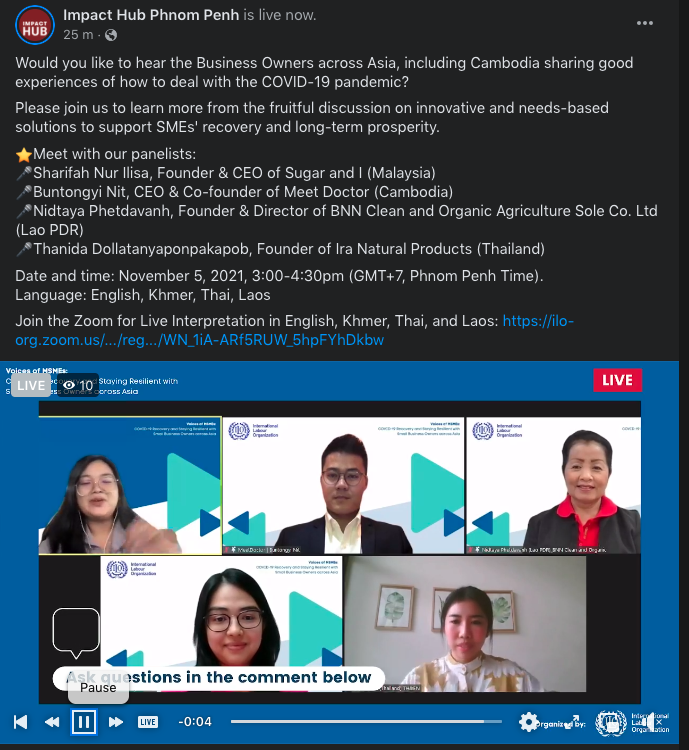 The speakers' personal experiences were coupled with practical advice for businesses and overall wellbeing. Nidtaya Phetdavanh, Founder and Director of BNN Clean & Organic Agriculture Sole Co. Ltd., shared the importance of leveraging digital platforms. She was able to maintain business by using social media such as Whatsapp and Facebook in order to reach customers. At the same time, Nidtaya advised businesses to not reduce quality and good service despite difficult times.
Thanida Dollatanyaponpakapob, Founder of Ira Natural Products, a natural beauty and comestic company, expressed she is "always learning, staying positive and flexible and being able to give back to the community is how I have been able to overcome hard challenges during uncertain times. This not only helps my business but makes me a better business owner and person".
The roundtable session was contextualised by an experts session where Charles Bodwell, ILO Enterprise Development Specialist for East and South-East Asia and the Pacific, highlighted the vast and often uneven impacts of COVID-19 on MSMEs across the region. Business owners have been experiencing pre-existing and new challenges, such as limited availability and access to much-needed support. At the same time, MSMEs have been adapting to the crisis with innovative and creative solutions.
Centring MSME voices is crucial for informing recovery policies and interventions during and beyond COVID-19. Ensuring that support provided is directly meeting their needs is key for the ILO and its several projects focusing on MSME recovery. The roundtable discussion was one of many activities amplifying MSME owners across Asia during and beyond the crisis.
The event marked the official launch of the COVID-19 Business Resilience page and materials produced by the ILO. The page, including training materials, resources and videos, are accessible at the ILO Peer Learning Hub for Enterprises in Asia and the Pacific.