The ILO and Cambodia's Ministry of Labour and Vocational Training collaborated on a three-day workshop integrating entrepreneurship skills in vocational curriculums to empower young Cambodians' careers.
On 16th to 18th of February 2021, the ILO and Cambodia's Ministry of Labour and Vocational Training (MLVT) organized a practical workshop which integrated key entrepreneurial training programmes into the national vocational curriculum. The redesigned curriculum aims to train young Cambodians to reach their entrepreneurial goals.
The "Youth's Entrepreneurship in TVET Curriculum" workshop explored how to best equip young Cambodians with the skills necessary to build and grow their businesses. 151 government officials and key facilitators learned about ILO's Community-Based Enterprise Development (C-BED) programme, which teaches business development and entrepreneurial skills in an innovative and participatory way.
C-BED programmes use activity-based learning, where participants learn from each other's unique experiences, while being flexible and low-cost. Trainings have been specifically designed for vulnerable and marginalised communities where funding and capacities are limited.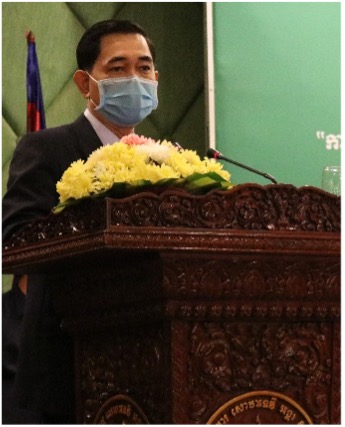 "The development of entrepreneurial skills is key for Cambodia's future development, helping the poor and vulnerable access decent employment opportunities. In recognition of the key roles of young female and male entrepreneurs to drive socio-economic development, the ILO is proud of its partnership with the DGTVET to roll out C-BED AE in the TVET sector. This will maximize the potential for job creation through entrepreneurship and sustainable enterprise development", said Mr. Tun Sophorn, National Coordinator for Cambodia for the ILO.
Entrepreneurship for sustainable development
Small and medium enterprises are estimated to provide two thirds of Cambodia's employment. The ILO and MLVT recognises the importance of teaching entrepreneurship to young Cambodians as a driving force for economic growth and sustainable development.
Technical, vocational and education training (TVET) provides the key knowledge and skills for employment and is a crucial vehicle for youth inclusion in the labour force. Including youth entrepreneurship in Cambodia's TVET curriculum will help underserved youth across the country.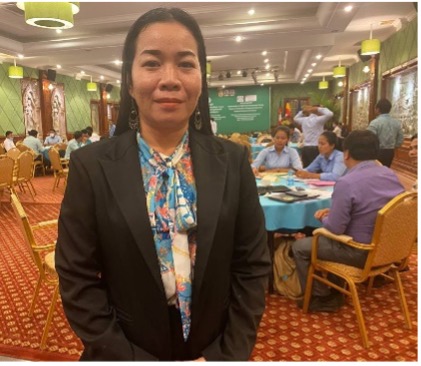 "Entrepreneurship Training plays a significant role in helping young Cambodians establish new businesses with more confident. Integrating entrepreneurship into the TVET curriculum is a great initiative of the MLVT and ILO. This will encourage TVET students to combine their technical and entrepreneurship knowledge to create new business ideas", said Ms. Sara Dalin, a key facilitator from TVET in Kandal Province, Cambodia.
The C-BED Aspiring Entrepreneurs modules teach practical steps and lessons to starting a business, including defining business ideas, marketing plans and price setting. These core skills are vital for enabling youth entrepreneurship and livelihoods.



Empowering the next generation

The COVID-19 pandemic has disproportionately impacted young people in the world of work. Upskilling and training Cambodia's youth with entrepreneurial skills is a key step in supporting vulnerable groups for sustainable recovery.

The ILO is supporting MLVT to roll out C-BED through vocational trainings. The new curriculum will be used by key facilitators in 38 TVET schools to teach entrepreneurship and vocational skills to young people across Cambodia.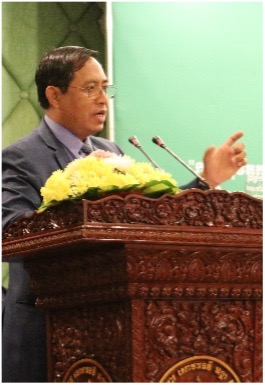 "In order to produce and trade competitive products and services in the national and international markets, we must strengthen the quality and capacity of both technical teachers and students through the provision of knowledge and new competency skills, including entrepreneurship, innovation, and leadership skill. This three-day workshop will capacitate the key facilitators with new knowledge and methodology to effectively deliver CBED AE in TVET schools across the country", says Mr. Hing Sideth the Director General of TVET, MLVT
So far, the C-BED programme has reached over hundreds of thousands of people in 14 Asia-Pacific countries. The ILO will continue delivering enterprise development support and paving the way to youth entrepreneurship in the region.
The training was supported by Swiss Agency for Development and Cooperation (SDC) as part of the Decent Employment for Youth in Cambodia (DEY) programme, and by the Government of Japan through ILO/Japan Fund for Building Social Safety Nets in Asia and the Pacific (SSN Fund). All training modules are available on the ILO Peer Learning Hub.