Cambodia has the fourth largest youth population in the South-East Asia region. For this reason, the ILO is supporting the establishment and advancement of an entrepreneurial ecosystem in Cambodia to give young people better access to decent work.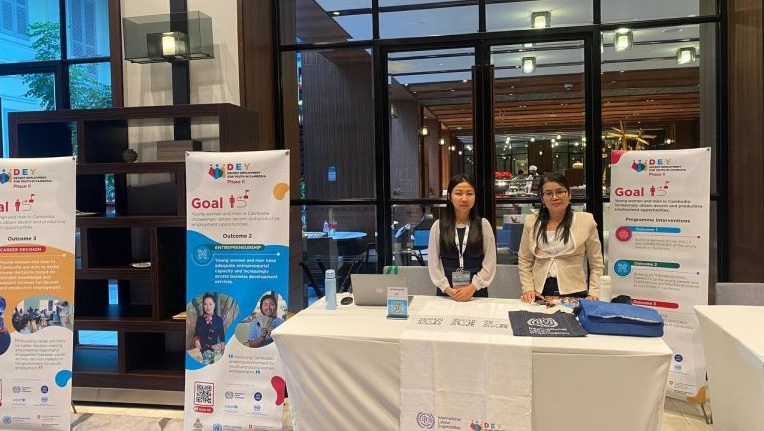 ILO DEY II booth at CAMESCO event ©ILO
The ILO's Decent Employment for Youth in Cambodia programme phase 2 (DEY II) took part in Cambodia's Ecosystem Strengthening Conference (CAMESCO) on 9 December 2022 to support the entrepreneurial ecosystem and to facilitate a network of national and regional entrepreneurship organizations.
Organized by Cambodian Ministry of Economy and Finance, Khmer Enterprise, USAID, Pact Cambodia and Swisscontact, CAMESCO is a social event to connect entrepreneurship strengthening organizations in Cambodia.
At the event, the project shared its achievements and work in progress on entrepreneurship ecosystem development, including Cambodia Entrepreneurship Day, MSME Resilience trainings, Know About Business programme, Digital skills for Tourism sector and Agricultural cooperatives development.
Shouly Chann, National Project Officer, DEY II programme, said: "The CAMESCO event was a great opportunity for entrepreneurship supporting organizations in Cambodia to meet and discuss ecosystem development. The ILO is committed to promoting decent work and better livelihood opportunities for youth in Cambodia."
Decent Employment for Youth in Cambodia phase 2 programme (DEY II) is a UN joint programme implemented by the ILO, UNIDO, UNICEF and UNESCO, mainly funded by the Swiss Agency for Development and Cooperation (SDC).