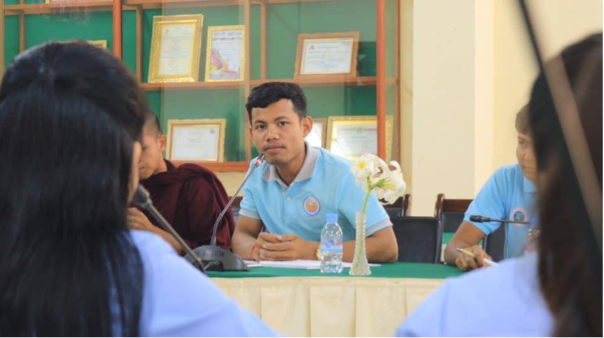 Men Chet took part in the Cambodia Entrepreneurship Day (CED) event in 2020. While the CED event was held every year by MoEYS with support from ILO, it was the first CED conducted online. He worked on ILO's online C-BED entrepreneurship training module as a small group and developed a business plan as a team. What is unique in the ILO's training is its Activity-Based Learning approach, which is a peer-learning and participants-driven approach.
After the event, Men Chet stressed, "I realized that every young person has the potential to become a successful entrepreneur. They just need to find their won potential and unlock it. The event helped me grow both personally and professionally."
The event strongly motivated Men Chet. He applied the knowledge from the event for his final thesis for bachelor's degree. The thesis was highly evaluated by faculty and he acquired the top grade. To further polish his business expertise, he decided to major business administration for master's degree.
Furthermore, the CED event got him to know about Khmer Enterprise, a public entity to promote entrepreneurship building ecosystem under Ministry of Economy and Finance of Cambodia. He was inspired by its missions, and fortunately he got a job as a Market and Investment Assistant.
In summary, the CED event unlocked Men Chet's potential and totally changed him from an ordinary juvenile from rural area to a leading business expert working for future of Cambodia. Finally, he said, "Entrepreneurship is an essential competency that will help you do a great work, regardless of working for yourself or for a company."
The Cambodia Entrepreneurship Day is an initiative organized by MoEYS and ILO on annual basis, with support from Government of Japan, Swiss Agency for Development Cooperation, Khmer Enterprise, USAID, Pact Cambodia, Wing Bank, Smart Axiata, UNIDO, UNV, Pizza Company, Techo Start-up Centre, Asia Foundation, Impact Hub, and various stakeholders. The initiative will continue and expand with support from more partners.