As the co-owner of iElder.asia, Olivia Quah is committed to ensuring elders can live life to the fullest through her medical service e-commerce platform. Olivia participated in a programme delivered under the ILO's Rebuilding Better project which inspired her to transform her business website.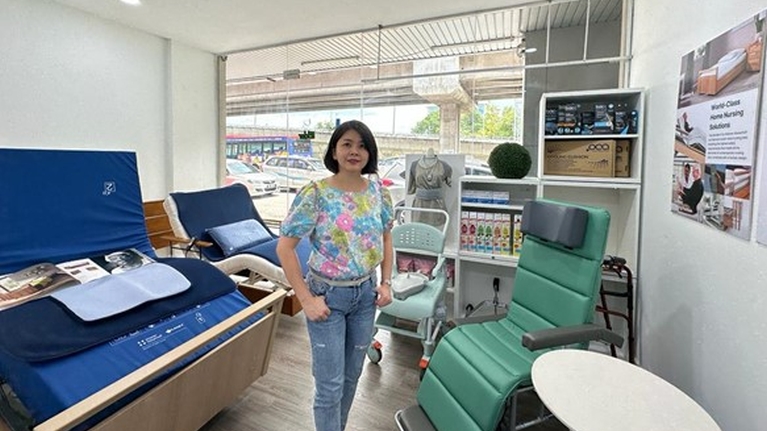 Olivia Quah, a Malaysian entrepreneur, was inspired to start her business, iElder, back in 2018 while caring for her aging parents. At the time, her mother had experienced a fall and her late father was suffering from mild dementia which forced Olivia to reflect on the types of care products and services that were available for those in retirement.
"This incident left a deep impact on me and I decided on that day to focus on the convergence of technology, products and services that can ensure Senior Citizens can live their lives in a safe and independent manner."
She then launched iElder, a B2C ecommerce platform that aims for seniors to "live a safe and comfortable life in their own homes with the aid of innovative medical gadgets and devices from across the world."
As someone who is always looking for new digital solutions to improve her operations, Olivia was keen to apply for the National Association of Women Entrepreneurs of Malaysia (NAWEM) and the ILO's Rebuilding Better Project. The programme, which was organized to assist women entrepreneurs to take their businesses to the next level online, consisted of a mix of technical sessions and peer support and spanned the course of four months.
Olivia was able to realize how she could utilize her website as a marketing tool for her customers. She identified several areas of improvement and learnt to simplify as much as possible and highlight important information to improve user experience and indirectly increase sales. Olivia plans on expanding to new locations in Malaysia.
The Rebuilding Better programme enabled Olivia to adopt new digital marketing trends and encourage other women to not only attend programmes such as the Rebuilding Better Project, but to put what they learn into practice. Olivia was recently recognized as an award winner for the "Resilience 30 Women Awards 2022 by HAPA®& Shanghai Business Media & BESPOKE International Group sponsored by Standard Chartered Bank on 26th September 2022.