The Rebuilding Better project, supported by J.P. Morgan, supports women entrepreneurs in Malaysia, Philippines, and Thailand to recover from the COVID-19 pandemic and adopt sustainable and resilient business models by greatly improving their access to vital support services.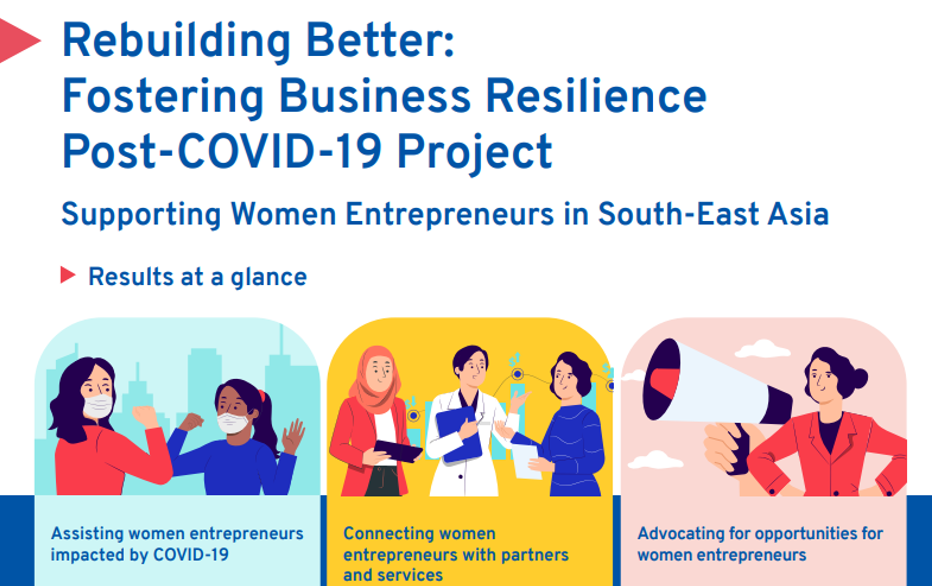 During the 18 months of its implementation from January 2021 to October 2022, the Rebuilding Better Project > was successfully able to mobilize and establish new partnerships, initiate dialogue on women's entrepreneurship development, and develop and test new tools, guides and approaches.
Over 1,100 small businesses were provided with the needed business development and financial support services and over 130 online and in person activities were organized for these small businesses. Additionally, 24 new resources were made available for entrepreneurs and small business owners.
The project also focused on connecting women entrepreneurs with partners and services and was able to organize over 15 capacity building workshops, mobilizing more than 30 partners to provide financial services, market information and networks to the project's participants. 5 multinational companies also engaged to provide support to women entrepreneurs.
Additionally, the project prioritized advocating for opportunities for women entrepreneurs. More than 100,000 individuals were reached through project activities, advocacy, and awareness-raising initiatives and 7 events to initiate dialogues on women entrepreneurs' needs and solutions were held. 3 new publications on women's entrepreneurship development were also shared and promoted.
Kornchai Kaewmahawong, Council Member of the Employer's Confederation of Thailand, commented on the positive impacts of the project. "Together with the ILO Rebuilding Better Project, we have assisted women entrepreneurs in Thailand impacted by COVID-19 and expanded our service offering to this particular group during a difficult time".
"I learned a lot of extremely useful tips on how to improve my business. I would definitely recommend this training to anyone" remarked a women entrepreneur from the Philippines. Another women entrepreneur from Malaysia commented: "It's an insightful programme for women to understand each other in times of challenge. I realized I'm not alone!"
The ILO is committed to continuing alongside development cooperation partners to ensure a more gender-inclusive policy and regulatory environment as well as to enhance women entrepreneurs' access to gender-responsive business development and financial support services.